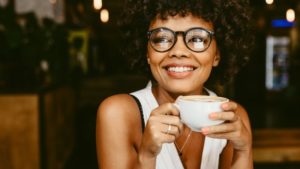 Nobody looks forward to having a tooth removed, but sometimes, it's the only way to relieve your pain and get you smiling again. Thanks to the incredible advancements in dental technology, tooth extractions are easier and more comfortable than ever before. However, it's understandable that you want something to help you relax after your procedure. For many people, that's coffee. But is it safe to drink coffee after a tooth extraction? Keep reading to find out!
When Can You Drink Coffee After a Tooth Extraction?
Just to be on the safe side, it's best to avoid drinking coffee for a few days after your tooth is removed. This is because caffeine may hinder the healing process.
As long as you're carefully following your dentist's post-op instructions, you should be able to carefully sip coffee about five days after your tooth extraction. Your mouth should be fully healed after about two weeks. If, however, you experience an increase in soreness, discomfort, swelling, or other problems in your mouth, reach out to your dentist right away.
Eating and Drinking After a Tooth Extraction
The good news is that you don't have to completely fast after you get a tooth pulled. Instead, follow these tips to get the nutrition you need without damaging the extraction site:
When you get back from the dentist's office, drink two to three full glasses of water and eat a small meal. Avoid chewing with the teeth near the extraction site.
For the first few days, your diet should consist of soft foods like yogurt, mashed potatoes, cottage cheese, refried beans, pasta, and soup.
Stay hydrated, but avoid drinking hot liquids like coffee. Plain water is typically the best choice.
Tips for a Smooth Recovery
Maintaining the proper diet after a tooth extraction is key, but there are other things you can do to promote healing, including:
Avoid rigorous exercise for the first 24 hours, as it diverts blood from the site.
Wait until the next day to rinse your mouth with saltwater.
Do not drink alcohol, use tobacco, or drink through a straw for at least 24 hours.
Take your prescribed medications as directed by your dentist.
Even though you shouldn't drink coffee right after a tooth extraction, following these tips will ensure your smile stays smile safe throughout the healing process. By keeping your mouth healthy during this time, you'll be back to enjoying your morning cup of joe before you know it!
About the Practice
With our experienced team of fourteen dentists and three convenient locations, Little Rock Family Dental Care is here to help you and your loved ones enjoy healthy, pain-free smiles. Not only do we have two skilled oral surgeons on our team, but we're also prepared to care for you if you have a dental emergency after-hours. If you have any questions about what to expect during and after a tooth extraction, please contact us through our website.