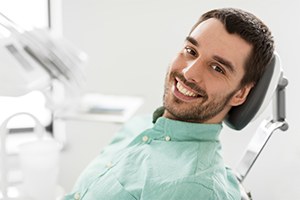 Video Transcription:
Hi, my name is Joseph Diorio. I do anesthesia here at Little Rock Family Dental Care. The name of my anesthesia group is Diorio Anesthesia. We provide anesthesia for dental and all types of oral surgical patients.
I do a quick history and physical. Examine the patient, find out what they're allergic to. What medications they take, whether or not they've had anything to eat or drink, just standard anesthesia questions. I reassure them that they're gonna have a comfortable experience and that everything is going to go fine.
After that, I start an IV. We put our patients to sleep here intravenously. When we're done, we let the patients wake up. Make sure that they're totally safe before we let them go and that we've met all their needs and they know also they can call 24/7 if they have any questions or any concerns. It's very safe, you put yourself at ten times greater risk driving here to have your procedure of something bad happening then during the actual anesthetic. So the monitors we use here for anesthesia at Little Rock Family Dental Care is the same monitors that we use in the hospital. Meaning EKG, blood pressure, and pulse oximetry. As well as end tidal CO2 monitoring. We do have things come up during the procedure where your heart rate may go up or go down–blood pressure go up or go down. We're able to treat that with medications we have here, like I said, myself or whoever is providing the anesthesia that day, we'll be watching every heartbeat and every breath you take we will treat any problem that should arise and get you out of here safe and sound.
Most patients under IV sedation don't recall anything during the procedure. Some patients do, however, wake up during IV sedation or may hear talking in the background. Those patients, however, don't remember hearing that due to a drug I use called Versed, which is a benzodiazepine and it really helps with amnesia, not remembering the procedure. However, it doesn't affect long-term memory so it doesn't cause amnesia prior to you getting to the facility.
Dr. Machen has also hired endodontists– two of them. He has a prosthodontist on staff, oral surgeon, anesthesia, so we're able to do so many things under one roof and I also sedate patients not just for surgery but for dental phobic patients. For a general dentist or endodontist, that may have a patient that couldn't get treatments due to severe dental phobia, we're able to sedate those patients so they can get all their work done. Little Rock Family Dental Care has really started something revolutionary, I think. Anesthesia and specific dental treatments under one roof. One facility.